Credit Counseling (Online Course)
Below is our home page that you will see when you first arrive at our website. To enroll for the course, click the button that says "Start Credit Counseling."

On the enrollment page, select whether you are filing "single" or "joint." Then, complete the information requested to finish your enrollment and begin the course.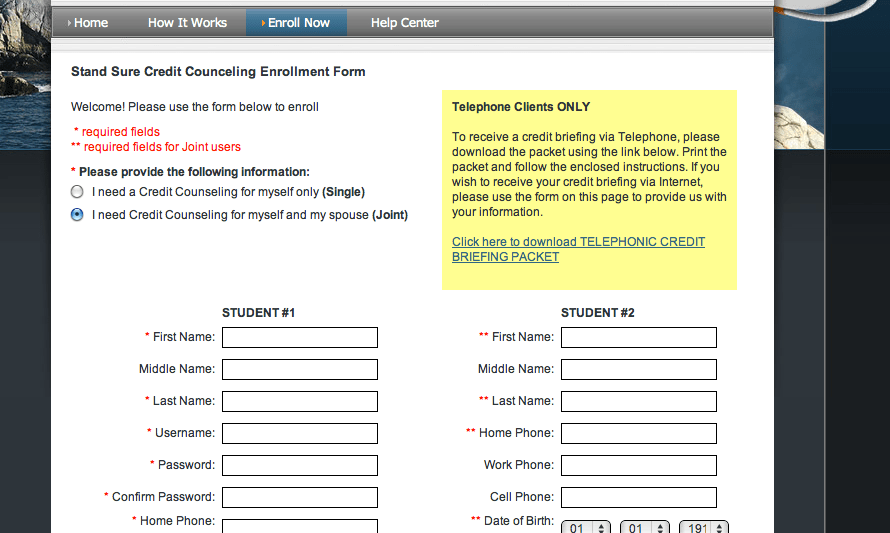 Tip: On the enrollment page, there is a yellow box on the right side of the page with a download link for our "Briefing Packet". If you do not have all of your financial information together yet, you can download those forms to have them available while you are getting it together. Once on the course, you could use the pages to fill in the online forms.
When you have submitted your enrollment, you will see the confirmation screen below.

Click the Login link on this page and use your username and password (that you set up during enrollment) to log in to your course home page.
Here is a screenshot of our course home page. The course consists of 5 steps, and we will do a quick walkthrough of each one.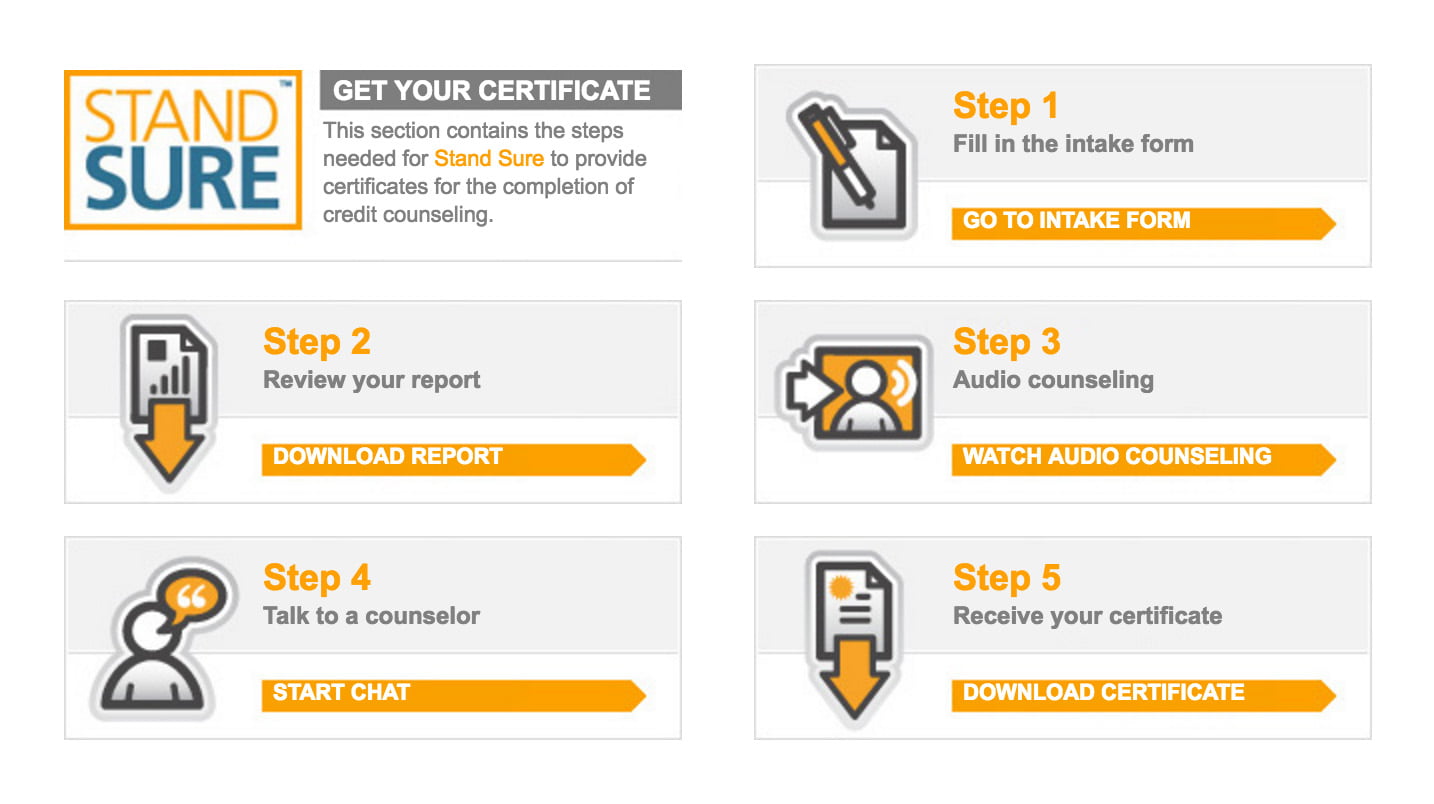 Step 1: Intake Forms
This is potentially the most time-consuming portion of this course, especially if you do not already have or know your basic financial information. You will need to fill out all the forms to continue to step 2.
Below is a screenshot of the intake forms section. You can see the basic categories of information you will need to have down the right side of the page.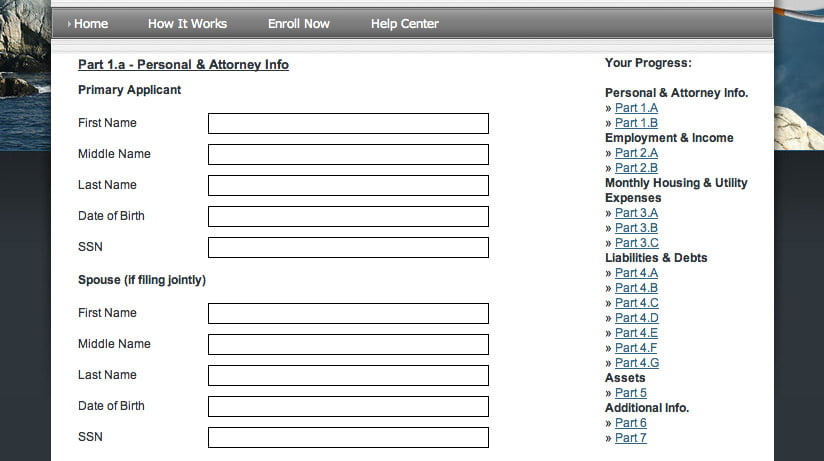 Step 2: Review Your Report
After completing all of the intake forms, our system will generate a Credit Briefing Report for you to review. The report will break down your financial situation and show you areas where you may need to adjust your spending. It also gives you handy tips on fixing your spending habits.
To continue the course, you will have to scroll to the bottom of the report and click "I have reviewed my report." This will unlock Step 3.
Below are some screenshots showing different portions of the report.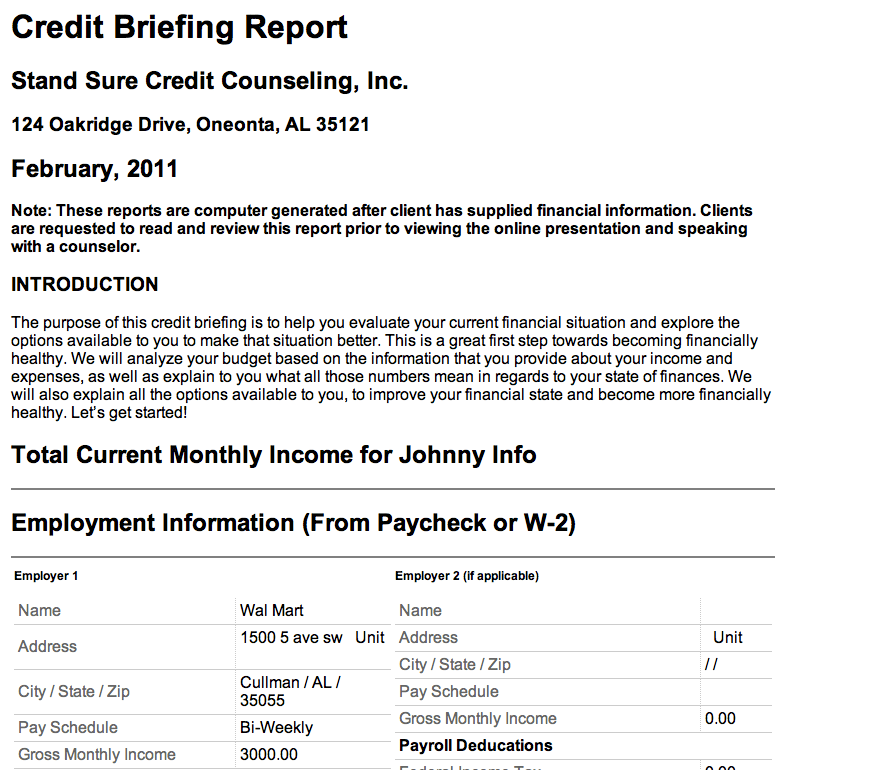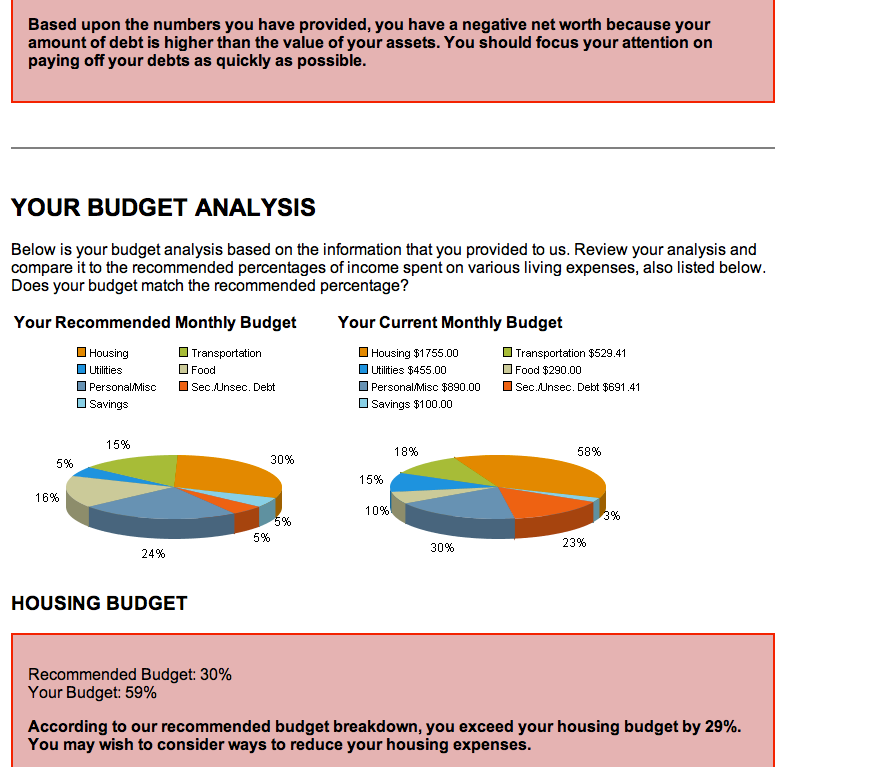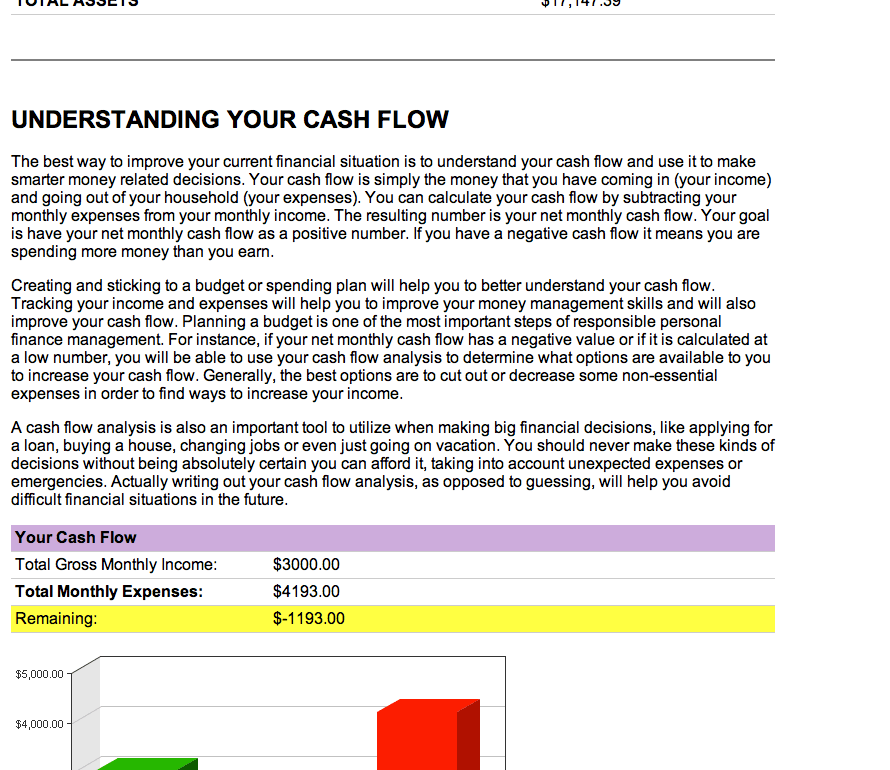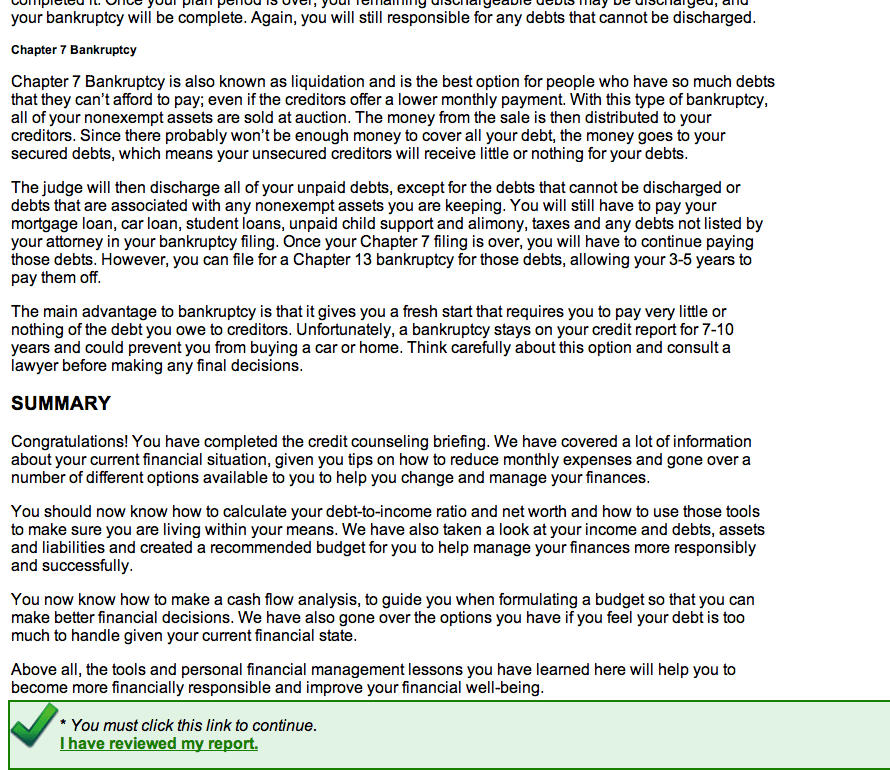 Step 3: Audio Course
This step is a slide presentation (69 slides) with audio. It will go through your report with you explaining what each section is showing and helping you to understand everything in it. You can proceed at your leisure through this portion of the course.
Below is a screenshot of the first slide in this step.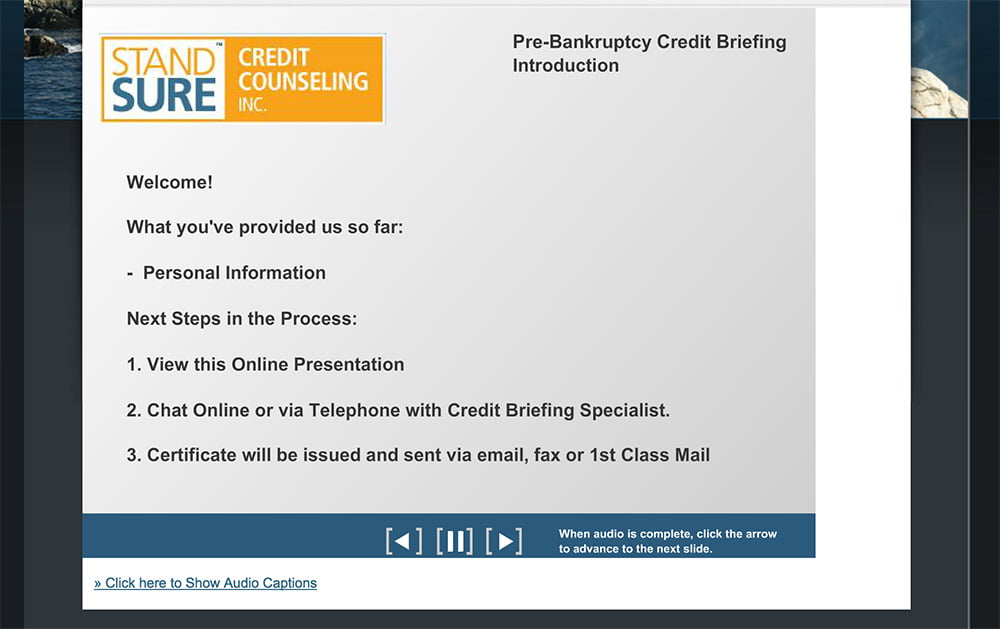 Step 4: Talk to a Counselor
Once you have completed Step 3, you will continue to Step 4. You will be taken to a payment screen at this point to pay the course fee. (This may differ depending on how your attorney is set up with us. If you are unsure about how to pay, please contact us at 877-240-1398.)
When your payment has been processed, you will then need to speak with one of our instructors for a brief course review.
We have 2 ways to complete this:
Online Chat – Our online chat is generally available from 8AM-5PM CST Monday through Friday
Over the Phone – Our instructors are available by phone from 8AM-9PM CST Monday through Friday, and 8AM-3PM CST on Saturday.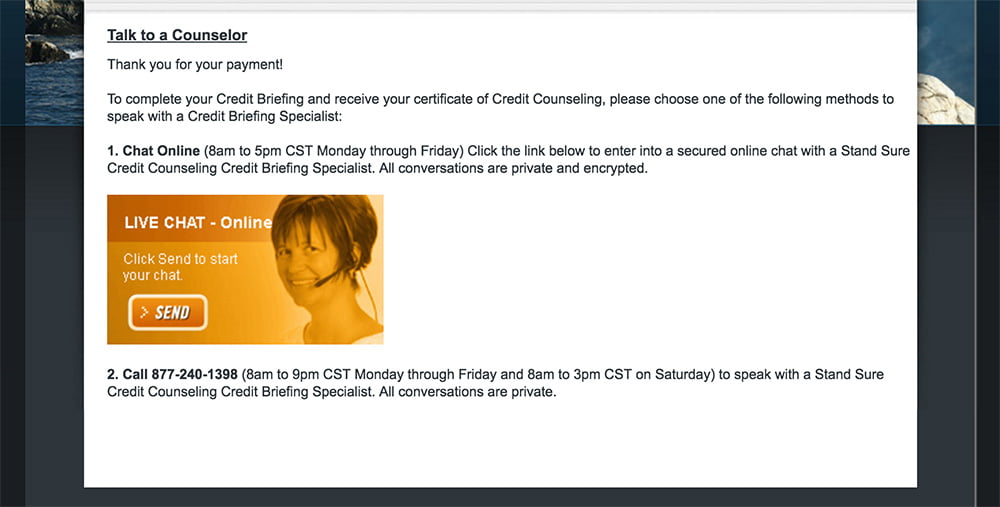 Step 5: Receive your Certificate
When your chat has been completed, we will process your certificate. We do our best to generate certificates the same day, but in rare cases, it may not be available until the next business day.
When your certificate is ready, you will receive an email with an download link. You may use this link to download a copy, or you may log back into your course page on our website and click on Step 5 to download it.
If you provided us with your attorney's fax number or email address during your enrollment, our system will automatically send a copy to their office when it is ready.
If you have any further questions, please call us at 877-240-1398, or vist our FAQ section here.